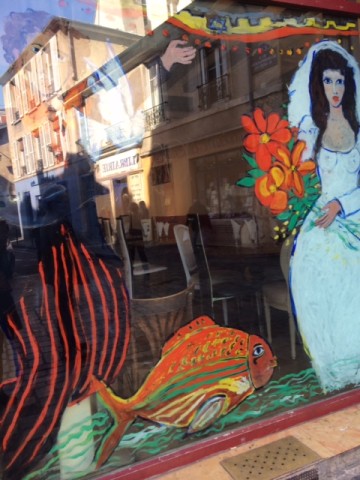 Recently I was on rue des Rosiers, in Paris's Marais district on a Friday afternoon before Shabbat. It was like a party.  You couldn't push through the small streets, for the people shopping for challah, lining up at falafel stands, conferring with gray-bearded rabbis. The two rooms of the trendy eating spot Miznon were like a family affair. While this French branch of the Tel Aviv restaurant raises pita, hummus, tahini and tomatoes to new gourmet standards, people come not only for the food, but also for the warmth.
Food is substance, sustainability and in this case, resistance.  This old Jewish neighborhood is on guard against terror: French troops in combat gear are positioned along the streets.  Soldiers stand three doors down from Miznon, outside an office of Jewish remembrance, just as they stand in front of every synagogue in the city, their machine guns hanging from their shoulders. People wander by with their falafels, teeter on heels, pass by with their dogs (it is a gentrified neighborhood).
One might triangulate this picture with a third piece, Jeffrey Goldberg's recent Atlantic article: "Is it Time for Jews to leave Europe?" http://www.theatlantic.com/features/archive/2015/03/is-it-time-for-the-jews-to-leave-europe/386279/ Goldberg's analysis of Jews in a vice, caught in a mix of latent European anti-Semitism colliding with Muslim radicalization at a time of receding Holocaust memory, paints a bleak picture. Among many depressing notes, he cites this point of black humor from German journalist Henryk Broder: "the Germans will never forgive the Jews for Auschwitz."
Many French Jews, though, rather like their homes. Last January after the terrorist attacks, Netanyahu was meeting with a group of French Jews in a Parisian synagogue.  He suggested that they  move to Israel.  The French broke into spontaneous singing of la Marseillaise, the French national anthem.  France is their home. Stubbornness is mixed with a hope in the face of terror.  For decades, the Marais restaurant Jo Goldenberg showed off its exterior bullet holes from the 1982 Palestinian rebel attack (just last week, after more than thirty years, three men were charged with the crime). The "carefree years" of enlightened liberal civilization may have been an abberation; the new reality of anti-Semitism may be the old reality.  It's terrible.  French Jews are aware, attuned; antennas are up.  Hyphenated identities of the diaspora may not sit well with many, including the Cartesian French.  But they keep eating. When food can be a means of resistance, there is a concordance of French and Jewish values. There is no demand for which affiliation supercedes the other. Ca continue.  Vive la bouffe.