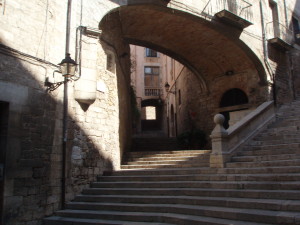 In Clio's Mobile Home, a young woman, at the point of disintegration, travels in search of what she is. The book begins with the murder in New York of her rapper-boyfriend whose career Clio had helped launch. Along with the mourning, guilt and soul searching, Clio questions the whole enterprise of identity. In fleeing to Barcelona, she rejects the mastery of self and "tries on" female heroines of the past, through mime. Suffering has turned her ecstatic, dancing nature in a different direction.
Through the text of Song of Songs and the reconstruction of Jewish medieval Girona, Clio accesses voices of the past and locates identity in the process of reaching through time and pulling oneself into the future. In a nod to her polyvocal nature, various characters narrate the sometime comic, sometime painful story of her learning curve in historical Europe. Clio, once a club dancer, finds balance in the nimble movement of the mind. She comes to accept her own creative consciousness, herself as a poet. This is Clio.
The outer journey that takes Clio from New York to Barcelona to Girona, a Catalan city sixty miles north of Barcelona is fictional. The characters that she meets – an Israeli developer, a Catalan theater producer, a Spanish journalist – are works of the imagination and people that respond to her unique character, both willfully naive and often wise.
But the core of the journey, both inner and outer, is based on experiences of my own. As a young Jewish woman from Pittsburgh just out of Brown University, I came to New York in the '80s and wrote about rap, the music as a springboard for understanding creative and cultural experience.
In that culturally vital fifteen years, I wrote about politically conscious rappers, breakdancers, world musicians and international celebrities. After being employed as an associate editor at Paper magazine and Us Magazine, I moved into freelance journalism, contributing major articles on culture to Vogue, Elle, Spin, Harper's Bazaar, Spy, the European, and many others. I wrote Elvis for Beginners for Writers and Readers.
I moved with my husband to France, first Paris, years later to the countryside around Perpignan, where I continued journalistic work and raised two daughters. In the '90s, and in many return trips every year, I witnessed the transformations of the Spanish/Catalan self, from post-Franco explosion to a development of consciousness of a Jewish medieval center in Girona. Girona was a place of poets, Kabbalists and spiritual thinkers. It is from here that the idea for my novel was born.
I write a blog, fictionally written in my protagonist Clio's voice, called Full Dance Card.
I can be reached at: [email protected]