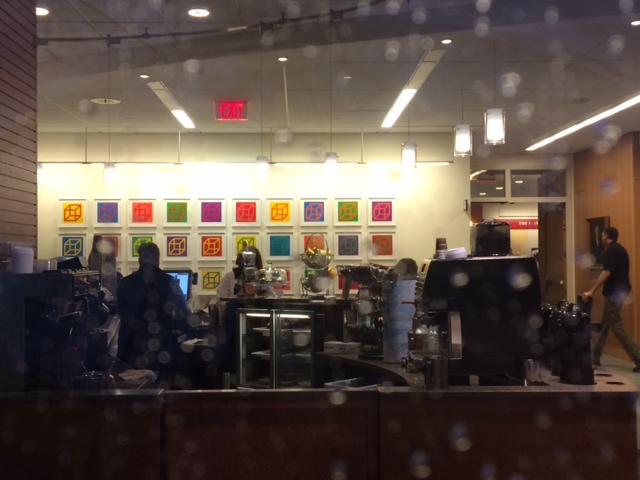 What does warm and dry look like?
This week when I was battling the epic downpour in Boston, I kept thinking about warm and dry.  Sheets of rain were flying at a diagonal, lines of umbrellas being pushed against bus stops.   Thick slapping drops made it difficult to move anywhere.
I happened to be standing by the Dana Farber garage, in a passageway between two modern glass buildings of doctors' and research offices.  I looked across the storm. There, I saw a bright, lit scene. The glass wall made it something of an open theater. The people were doing the modern people thing – walking alone, talking on cell phones, snapping lids on the coffee that they had just bought at the cafe. The room was so bright, so alive, powered not only by flourescent but a backdrop of streaming color, of fuschia and granny apple and peacock blue.  There was a wall of 30 prints of repeated 3-d cubes. The pop colors were worth several suns, artificial, electric packets of energy.
I was already soaked, so I could stand there soaking in the sun and light. My sister, Heidi, my mother's husband, Marvin, and I had donated that painting – "Open Cube in Color on Color" – to the hospital in memory of my mom, Doris. In selling it, the artist, Sol LeWitt, also saw his price as a gift to the hospital, which made the whole thing possible. In its drama, authority and dazzle, it was made for my mother.
Now I wanted not just to see, but to know, to be a tiny part, like a chip inside everyone. I wondered what they were thinking. The blond over there – while wrestling that genetic irregularity, did she look up and think the simple cube at the bottom of everything? Did the doctor treating a melanoma patient get some boost – some inspiration outside the box?  Was there a sense of shelter in the rhythmic bouts of color and pattern? Were they, at least, grateful to be out of the rain?
I went inside the building.  At the cafe counter, I told the two servers that my family had donated the painting. I asked them if they had any reaction. They shrugged. They couldn't figure out why I was talking to them.
I could have written better lines for them.  But I didn't mind. Whatever happened that day, Tuesday at 4:14 pm, was fine.