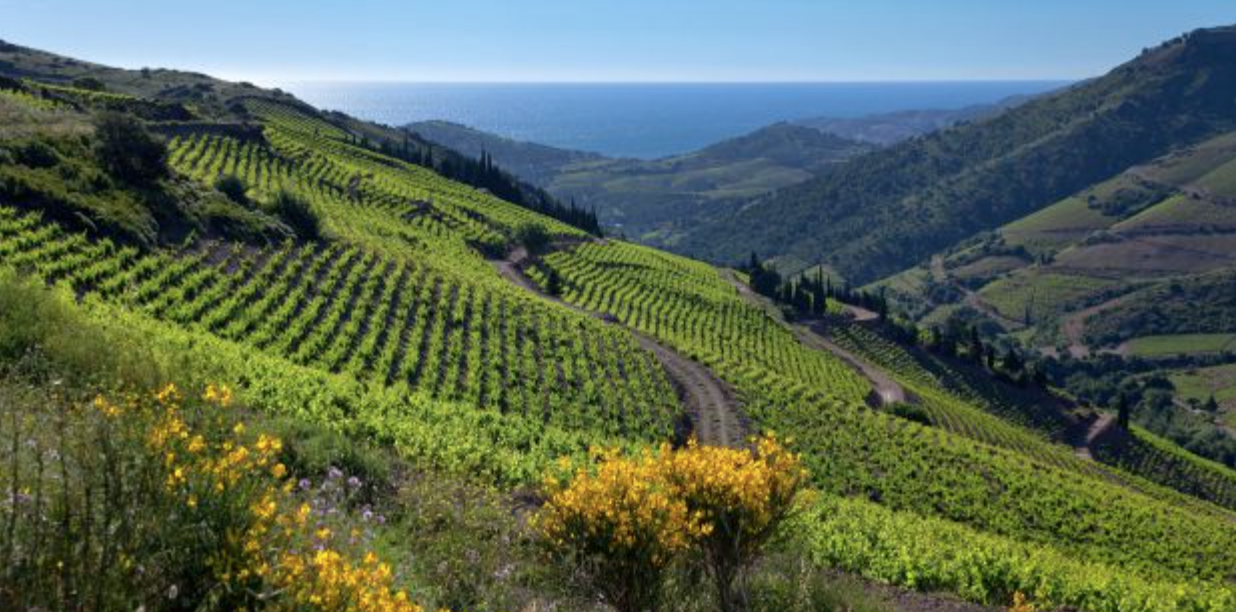 There is a mythical hillside in the Pyrenees that is superb earth art.  Every time I drive the serpentine path of patterned vines, I think of Robert Smithson's Spiral Jetty from 1970, and Christo's curtains.  This anonymous collaboration in Banyuls, France, is in their astonishing ranks.  In the steep, dense and rolling Pyrenees, the slopes bump against one another, and the patterns play.  Each has a little bit of the whole.  The angles are astounding – pure vertigo.  The vineyards hang like acrobats high above the azure stretch of Mediterranean below – with their roots deep in the ground.
The vines were originally planted by Catalan farmers who patiently worked the land with their mules.  One of the hiking paths in the mountains, Cami d'Anicet, is named after the last mule driver.  While the mules are gone, the neat vines, in the high noon sun, seem survive by themselves  – you hardly see a person.
The mountains silently hold history.  German philosopher Walter Benjamin famously took this route, hoping to reach Spain and flee the Nazis.  His death in 1940 in Port Bou, on the border, remains mysterious.  Many thousand of Spanish republicans crossed the other way into France in their flight from Franco; and the Pyrenean paths have always been treacherous smuggling routes.
With the painful, anguished politics that burn "back home," it seems almost indecent, such beauty.  The sun keeps on shining with direct intensity.  The vines hold the earth – after all, there could be eroding clay, there could be wild tangle.  There could be absolutely nothing at all.  It's astonishing that there is, and there are still people who tend it.