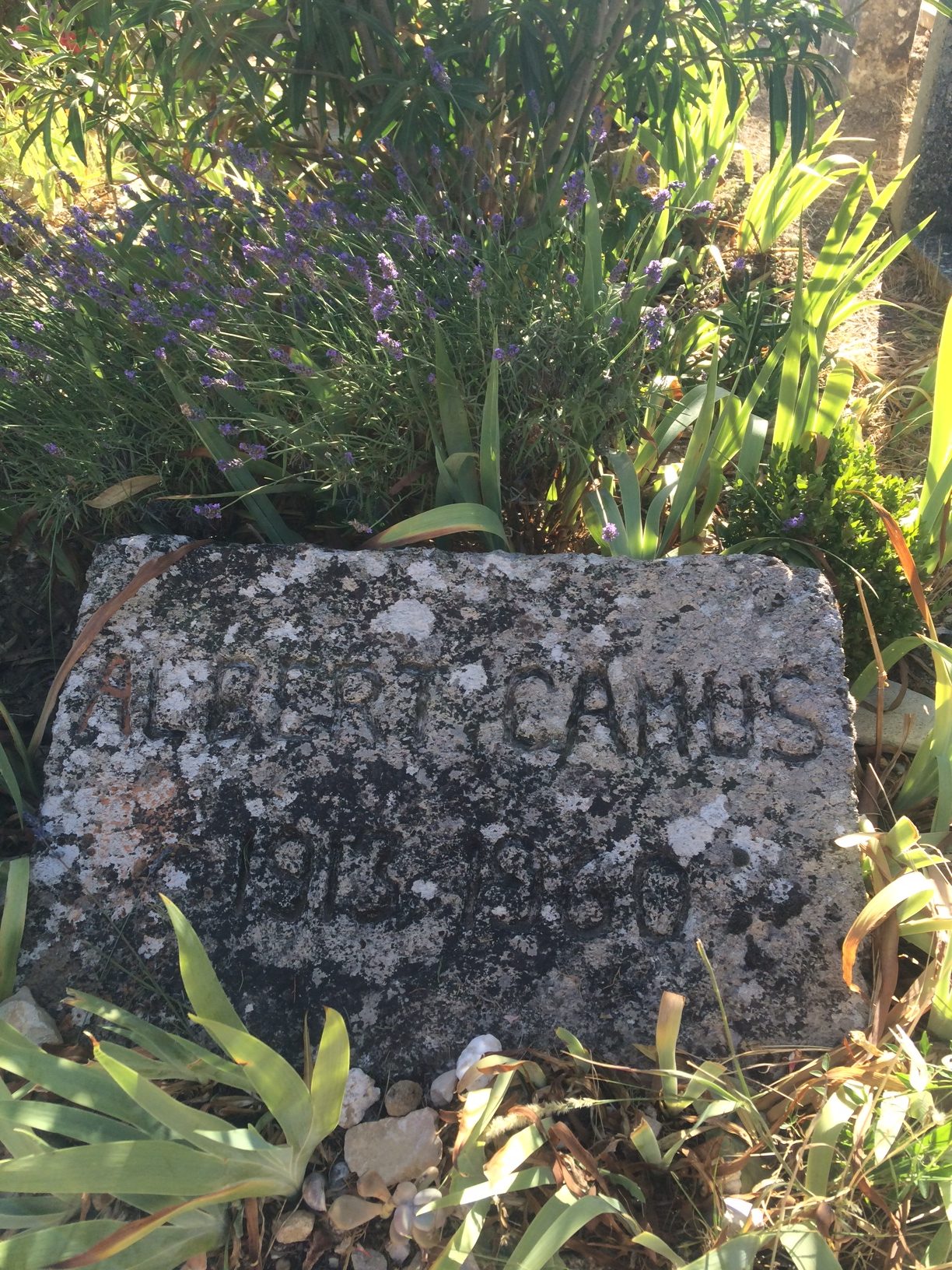 It's surprising how obscure Albert Camus' grave is, outside the small town of Lourmarin in the French Luberon.
If we hadn't had to make a U-turn on a Provencal country road, and turned into the cemetery while being hounded by a fast driver, we never would have found the grave. Even at the cemetery gates, we got out of the car on a whim. We don't usually say, "Let's walk around the cemetery!" but the elegant cypress looked so bright and alluring in the sun.
Then we saw a small sign with the simplicity of his name and an arrow.
We were chuffing over the wrong turn at the fork of the road turning right. We're big fans of Camus. Not only the Camus, famous author of "L'Etranger," "The Rebel" and "Myth of Sisyphus." But also the thinker who continued to evolve and fell afoul of the French intellectual wars in the late '50s. Camus didn't hew to Sartre's strict camp – he despised the totalitarianism that Stalin made of Marxism; in the ideological battle over Algeria, he refused to stamp his thinking with strict intellectualized polarization. Camus' sympathy and gravity went to people. Ideology that would make them slaughter neighbors violated his concept of being human. His conscience led him to nuance the French Algerian "pied noir" away from a stereotype of exploiters, and Muslims as incapable innocents. 
Camus took the dreaded middle path, which earned him enemies on both sides. He wanted to facilitate dialog between soon-to-be enemies, but there were outrages, errors, scandals, and he never got there. He fell into disgrace, then suffered his fatal car accident on a country road. He died at age 46. As we discovered, his grave is soft with weeds and lichen. Nicholas Sarkozy, when President of France, had wanted to move his remains to the Pantheon, but Camus' son opposed the political co-option. Camus would remain independent of glorification for the sake of any country or cause. His legacy stands for us to revisit, now, when the middle ground is so very small.