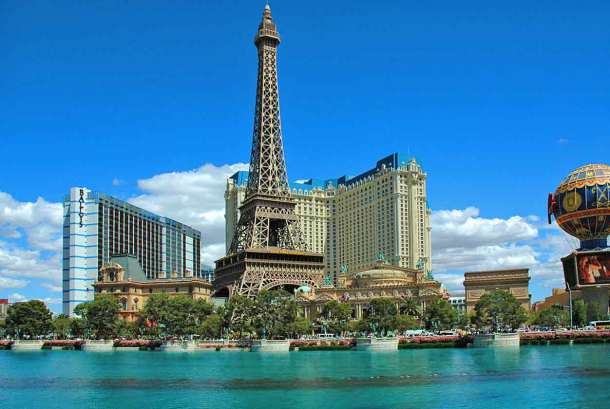 For many tourists, the grim reality of the 11/13 attacks has ruined the fantasy of Paris. Paris is no longer what it once was, they think. The city is no longer "light and gay and frivolous." Tense Parisians no longer have the look of joie de vivre. Who needs the depressing thought that a third world war is being waged in people's hearts, with barricades of necessity and fear? That in self-defense, countries wage war on their own people?
At least we still have Paris Las Vegas. The safer, cleaner, more navigable alternative is alive and well, sain et sauf   in the French-themed, Nevada resort.  A glass elevator whisks tourists to the top of the "Eiffel Tower" – at 50 floors, 460 feet. That's half the height of the "real one" in the 7th arrondissement. But the lines of police in the 7th make the real Tour Eiffel look, well, under siege. The Las Vegas version can feel easy and free, a symbol of a certain je ne sais quoi.
The feet of the Vegas Eiffel Tower poke through the roof of the casino and rest on a Monet-style floral carpet. That's certainly enough to distract us from the Baudelaire-style abyss where we find ourselves. We don't know what our enemy is made of, what it wants; we only sense that it may be egging for an apocalyptic-style confrontation to prove that the West is truly out to destroy it.
But there is a ray of light. In the art and play of Vegas, we may be able to entertain something other than the confrontation of Certainty against Certainty, our current fate.
It involves coopting radical Islam.   Rather than secular elites vanquishing religious fanaticism, a model of power-sharing might be explored. In Algeria, the government has made hard-core Islamists a "wing of the pouvoir," part of the power structure. Were that to happen in Paris Las Vegas, we might see robed men and women guarding the Eiffel Tower Experience with system-approved rifles.   We might see radicals in the replica of the city hall, Hôtel de Ville, dashing in and out with lean faces and straight backs.  They might drive  little cars madly around the Arc de Triomphe, like tense bureaucrats.
The battle, counter battle and counter-counter battles might be calmed.  And in the words of Algerian writer Kamel Daoud, we might be "liberated from the liberators."
Whether we would be free will remain an open question.