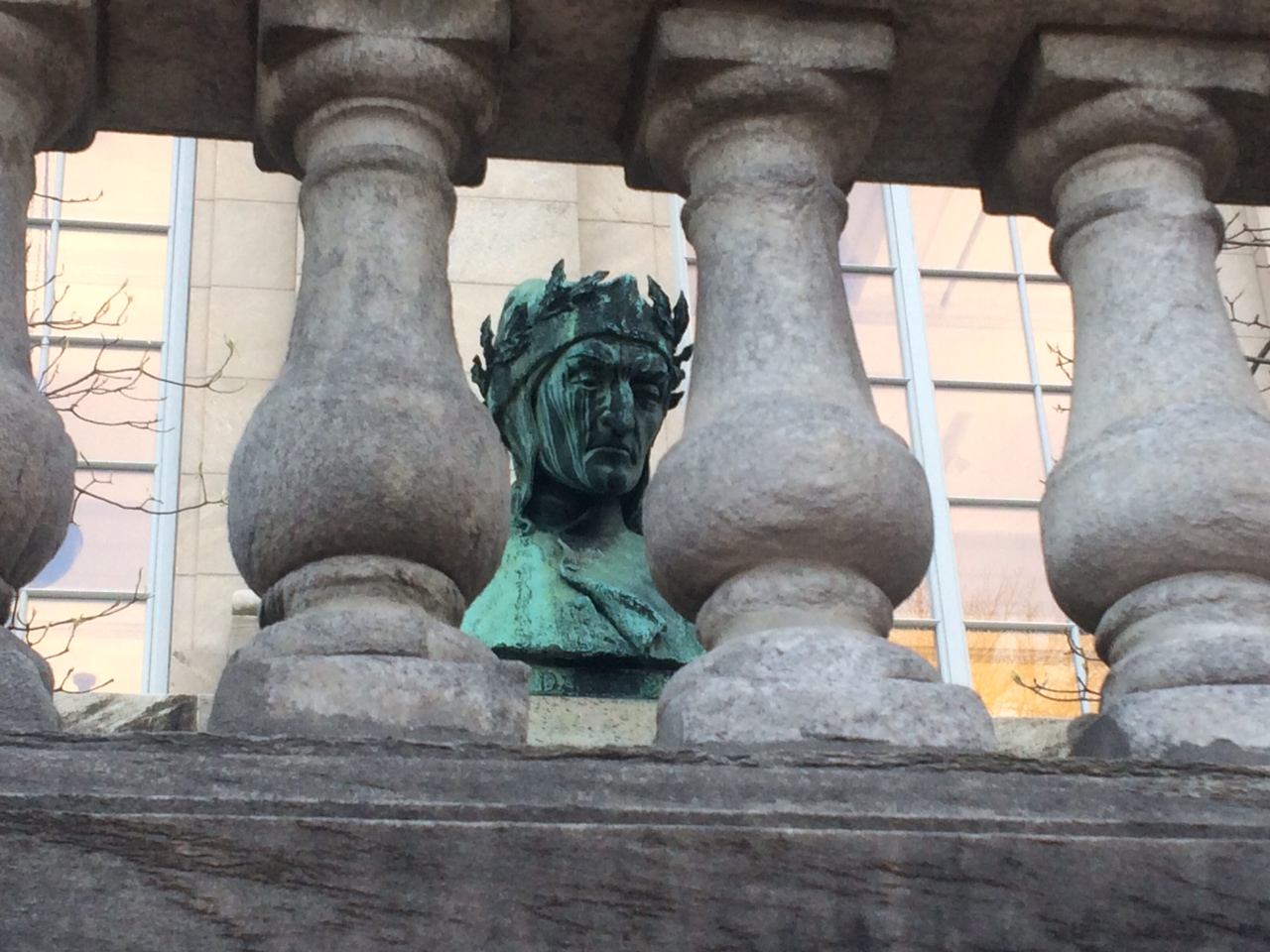 Two men are fighting a duel, or a knife fight. A third person, a woman, sees the men about to kill each other and rushes in to save her lover. She wraps her loving arms around her man. But now the moving target is still. The opponent has time to cock the brim of his hat, brush dust from the arm of his jacket before he does the job.  He lunges with his best form, and boom, the lover dies a tragic death in his lover's arms.
Best intentions can be deadly.
Poor poetry has recently been taken down in unintentional lover's arms. Instead of moving around freely, fighting its own fight in the stacks and libraries of my local university library, the books have been wrapped in marble arms. Living poems by living writers have recently been moved by Brown University to a daunting classical library temple. Feeling that poetry books are so precious, Brown has put them in a Parnassian marble cage, with a fence around them, to keep them still forever. They are guarded by the bronze bust of Dante who alerts us: "Abandon hope, all ye who enter here."
The curious, the passionate, those with a thirsting desire to read what their contemporaries are writing – now! – must now request the book. In two or three days, she will get a notice from the librarian that the slim precious tome is waiting at the desk.   She will find that she may not take this book into the world – it must remain within the perfect walls of eternal beauty, not to circulate in the world of creatures, even though it was created from those creatures' sweat and toil.
The exception is Claudia Rankine's Citizen, three copies of which are available upon request at the main library. But before long, they will be like Joshua Mehigan's meditation on the end of the world, Accepting the Disaster, which will have to wait until someone says, Let me request a meditation about the end of world.
You can always read Shakespeare or any of the books on the best-seller list of Abe's Books, updated hourly (Maya Angelou, Kahlil Gibran, Walt Whitman, although Dr. Seuss must be requested through from the Annex). Or instead of borrowing from a library, you can spend $15 or $20 to buy the living poet's book. Maybe it's a plot of the poets. Then again, maybe not.