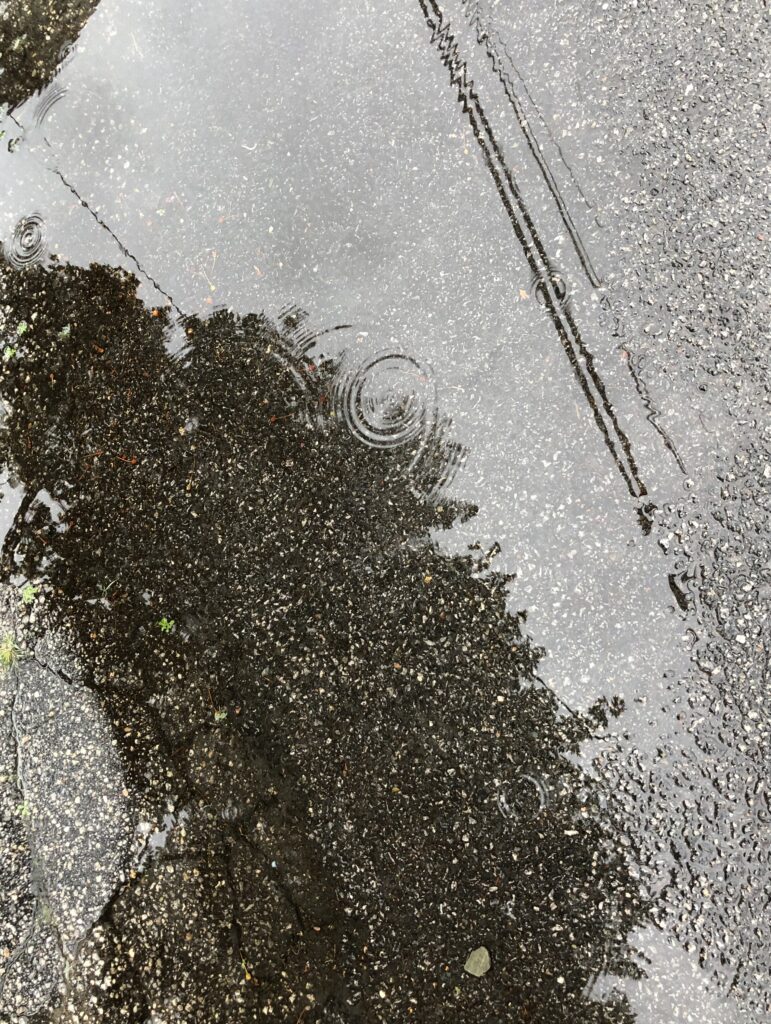 Finally it rains. Slapping and paddling the thick leaves; gliding down (d)rain pipes to be spit out onto recumbent weeds, filling puddles that I see mixed with the mesh of my screen window. Puddles like a running woman, arms outstretched, hair flung behind her, legs poised and bent. Now a drip, now a piling, now a pulsing on my phone: Flood Watch in your area!
Now at the risk of life and death, to wonder what becomes of rain after a poet dances it into language.  Does it still slap as sound on the receiving mind, as rain but more so? Do we lose it to the beyond, or to a "finely woven curtain – sheer net perhaps – thinly broken, relentless in its fall, but relatively slow, which must be down to the Lightness and size of its droplets, an ongoing, frail precipitation, like real weather atomized."  So poet Ciaran Carson writes in a poem inspired by the Impressionist painting, "Gustave Caillebotte, Paris Street, Rainy Day, 1877," the poem a riff on Francis Ponge, 'La Pluie.'"
Ripples upon ripples in ripples. Enchanting patterns as droplets outside my window dissolve one upon another into larger radiating ripples –teasingly certain, never bothering to answer the question.