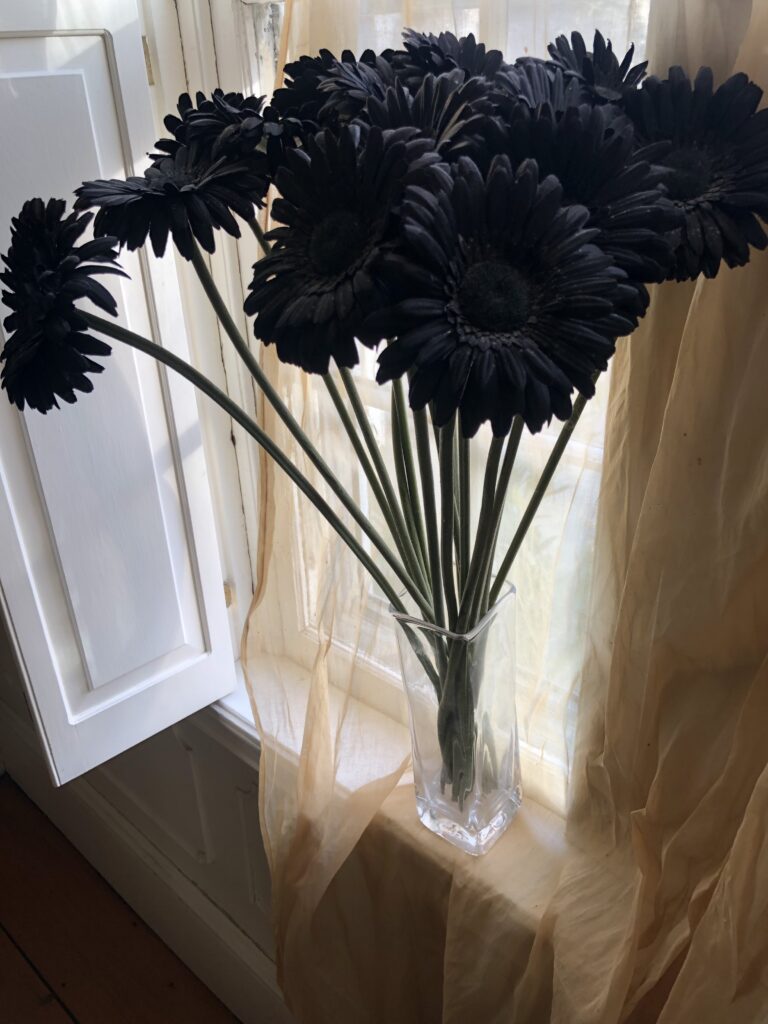 Black being such a glorious color, it's unfair to see it maligned in the season of light.  During those holiday weeks of celebrating "light," all those little pinpricks stung me and made me think, in a Baudelairean way, about its other. I was thinking about how to decouple darkness and its sometime extension "blackness" from the metaphors of sin and ignorance of the age/soul.  I thought about how to decouple part of the daily cosmic cycle and a radically beautiful color from centuries and millennia of role play, poetry and language games.  How might race relations have been different if the color of sin had stayed in the red zones, stains of blood and sex as they were in the Hebrew Bible?  But new color games came along, Christianity codifying and equating Adam and Eve's "original" sin to death and to the color of death.  In a much, much longer story spanning centuries, black came to mark dark ecstasies of sinners, devils, and sadly, Ethiopians.
I was listening to a magnificent sermon of Martin Luther King at Riverside Church, from 1964. Was I surprised to hear him use the metaphors "terrible midnight of our age" and "it's midnight, a darkness so deep that we can hardly see which way to turn"? When he preached, I believed his midnight, his condemnation of moral relativity, hypocrisy, lack of compassion. He doesn't say blackness – he says darkness, and midnight. Deep dark holes of moral/Christian failure, using the full weight of age-old cultural symbols.
The title of this speech, "A Knock at the Door," is a midrash of a parable of Luke, which in itself is a midrash of "The Song of Songs." When a stranger, lover or needy person, which could be divine or part of ourselves, comes knocking at our door, we are unprepared, we hesitate, or play or hide. The desire and demand of this other breaks in on our lassitude; it erupts, interrupts our borders. There are so many "colorations" here, but there is a pattern. Certain things cannot be explained, but we know to be true. Color breaks in, uninvited, irreducible, not standing for anything except itself.