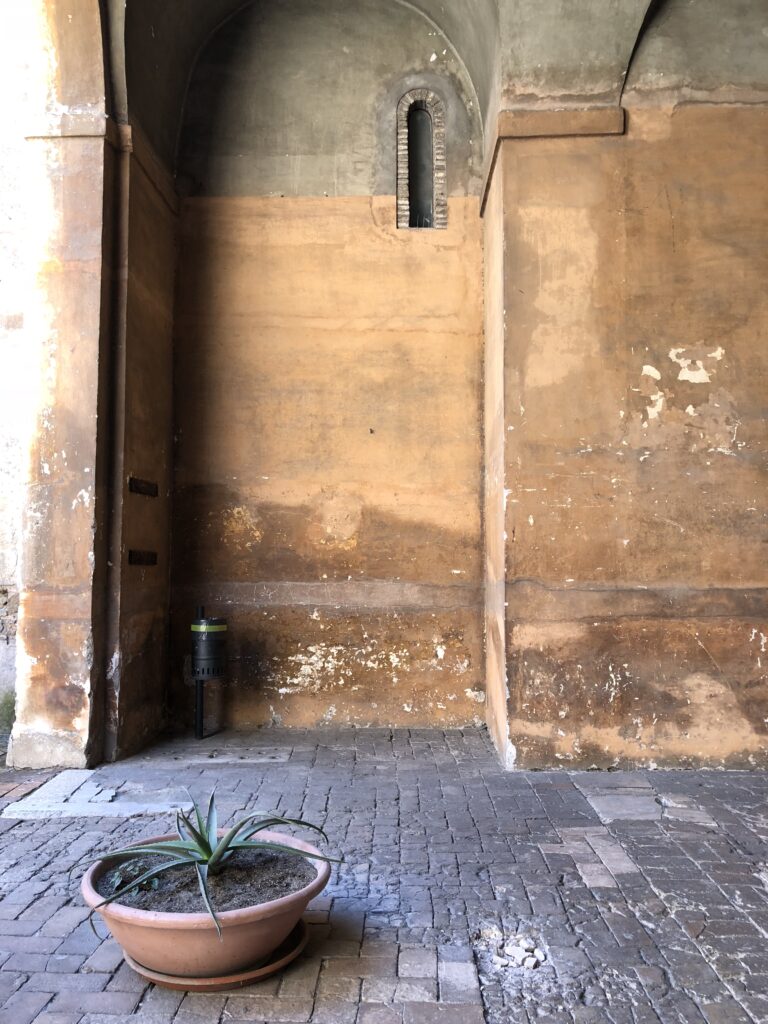 Eternal memories from the Eternal City, Rome, 2018, from the weeks we were lucky enough to spend in Testaccio. That year, religious holidays fell at the same time — Passover Seder was finishing as Easter bells began to ring. In the days before the holidays, I got swept up in the emotional intensity, the cresting of passions in theatrical and religious Rome. I was fascinated with the intricately woven histories and texts of two great faiths. I found some journal notes where the timeless ritual makes appearance in the living moment. I share them:
Last night the Trevi fountain, with its gaudy excess, the water lit to resemble tropical Hawaii, was crowded with holiday tourists. Groups of long-skirted priests walked by, disappearing into the dark streets. Two steps away, a church that seemed carved out of grotto rock, opened its doors. Inside a few worshippers were sitting in pews alone. A nun began to strum a little guitar, maybe ukelele, and in a high voice slipped off, then refound her key and wavered with naked vulnerability.
At six this morning, a group of worshippers stood at the back of the neighborhood church chanting what sounded, in its open repetitions like the Kaddish prayer. Aramaic speaking to Latin? Probably not, but the cultural overlaps were beginning to seem like the point.
For our Seder, I read about long history of Italian Jews: as many as 20,000 Jews had been brought as slaves after Rome conquered Jerusalem in 70 AD. I read Edda Machlin on her country's venerable culinary traditions, about the excitement of returning to the community's matzah oven, chiseled into the wall of a cavern; once a year, it was cleaned of spider webs before bringing down matzah meal and eggs. The traditional Seder dishes were baby goat, polpettoni d'agnello – lamb loaves, or turkey breast pie which must have been brought by refugees from the Spanish Inquisition.
For our Saturday night Seder, I made artichokes Roman-style, fish with pignola nuts and raisins, puntarelle salad and almond macaroons, the recipe from cloistered nuns in Jerusalem, we leaned out on the sills of our apartment, imaginining how early community in the Jewish ghetto would hear the Dolor — dolorous bells were tolling after midnight Easter mass.
I wrote a longish poem which dwells on the human pain of crucifixion — but was struck by the end which I excerpt. Although faiths have their own version of redemption, the echoes and repetitions are notable — the cry of anguish – My God, why have you forsaken me? – belongs to both Jesus and Davidic Psalm 22. This is a story of layerings more than parallel lines coming together, ending with a sly spin on universal praise.
At least everyone can agree on one thing:
After midnight, shutters thrown open
and people down in the piazzas shout
with the complaint of braying goats,
or like a mondial harmonium,
My God, why have you forsaken me?

we Jews will tempt the cresting Sea,
red from the lash, locust wings,
hot sand in the whorl
of our ears, going for broke
while clutching oppression bread
the effervescent suck of death
between great waves
so close, when all is given up
a song flies from us
all tongues, everything that brays
and breathes,
the eyeless fish
plankton, dancing women
praise Jah