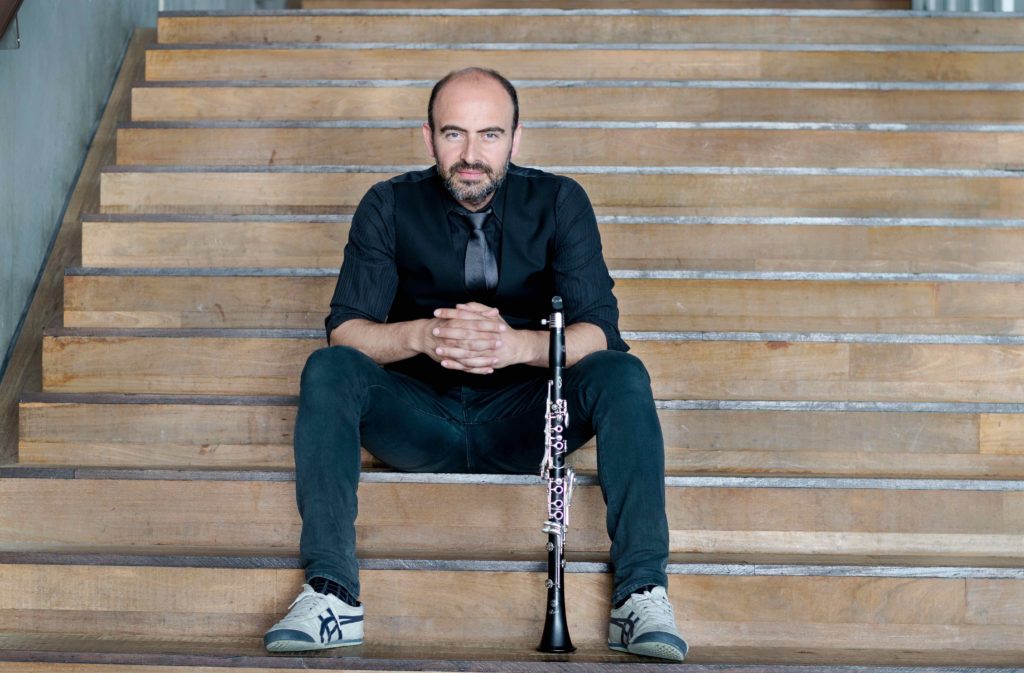 Kinan Azmeh is an existential wanderer and a supreme musician who finds homes around the world. He was riding the New York subway, just back from a musical tour in China, when he described the genesis of a piece he'll perform, along with the MusicWorks Collective, during his upcoming residency at Community MusicWorks.
Azmeh's composition The Fence, The Rooftop, and the Distant Sea began with a moment. Years ago, Azmeh was sitting on a rooftop in Beirut, Lebanon. He was staring out past a fence at the distant sea. As his mind skimmed the waves, he entertained a series of images from Damascus, the hometown he'd been separated from. How far was home, or how close? He used a mental map to reconstruct ways of getting from his parents' house to the opera house, where the traffic lights would be, which corners were where. Later, he composed music for the four-sectioned piece in which two characters turn over the complex notions of what is home, when you have it, when you lose it, how you recreate or reconstitute it.
"In the beginning of the piece, the search for home is complicated and fraught," he says. "As the music continues, one realizes the best are simplest memories; the music ends almost in the form of a lullaby."
It's an extraordinary and consoling resolution that he shares in concerts for audiences widely and happily varied – at refugee camps for Syrian and other displaced people, at schools, at prestigious spots like Carnegie Hall. Azmeh's musical meditations on home/not home have been the product of discontinuity, years of reflection, radical turns of life both by choice and by fate.
Born in 1976, Azmeh began studying clarinet at age six in Damascus. After studies in high school, he left Syria to study at Juilliard School in New York. His musical reach was always inclusive. He was at home with classical greats: "Bach, Mozart and Brahms weren't staples on the Syrian radio. But as a child I drank it in. Mozart is equally mine. It didn't matter if he was Austrian or German, he was Syrian too." In New York, he won prizes for virtuoso playing, performed with the Syrian National orchestra, Daniel Baremboim's West-Eastern Divan orchestra, Yo-Yo Ma's Silk Road. He plays with City Band, a consortium of creative musicians who cross borders and integrate different musical genres.
"Bach, Mozart and Brahms weren't staples on the Syrian radio. But as a child I drank it in. Mozart is equally mine. It didn't matter if he was Austrian or German, he was Syrian too."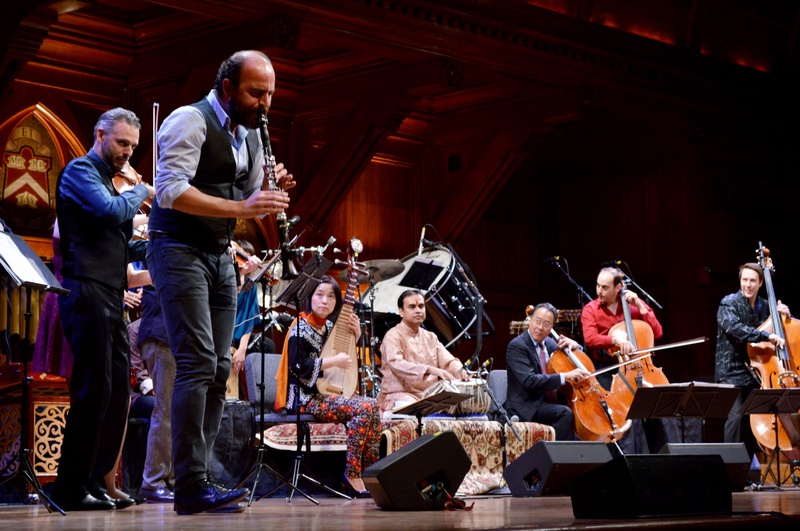 When the Syrian uprising began, it caused Azmeh tremendous suffering and an inability to return home. The pressure crushed his creative juices: he couldn't pick up the clarinet for a year. "What was going on was way deeper than the music I was trying to make. The need for the arts was too complicated for me to address, no less reflect on."
Azmeh eventually came back to his own tool for self-expression — his playing and composing. "I decided to use it as loudly as possible. Even though I realize it's a soft form and I realize the limitations of it."
The haunting refrain, "What is home?" came up again in 2017. Azmeh found himself unable to return to his adopted country, United States, when President Trump issued a travel ban on Syrians, and he was on tour. He felt the outrage, double sting, and fear of being exiled again. This was an irony for someone like Azmeh, who believes so staunchly in the openness of cultures, the shared vocabularies of music. "I don't see barriers or much difference between musical genres. Of course there are different musical vocabularies, but at heart, it's all the same."
Essentially, Kinan Azmeh feels most at home when he's playing music, and the powerful emotion he conveys through the heart of his instrument. The clarinet is close in sound to the human voice, and Azmeh's playing is informed by familiar folk musics, for instance, klezmer, Greek, Turkish, big band jazz. He can blow off the roof or go silky and soulful. Listen to the meditative care with which he describes playing a wind instrument: "When I play one note, I feel the reed vibrate. There is sound coming out of silence. Every time I play I'm giving birth to something. I'm fighting silence when I start breathing, then when the breath stops, the sound stops."
Ultimately, Azmeh's immersion in music and experience of exploring identity has led to wisdom in liberating oneself from strictures. He tells a story of escaping labels: "First I was called a young clarinetist from Damascus. Then when I wasn't young, I was a clarinetist. Then a musician from Damascus, then a Syrian musician. The next step would be a musician. Yo-Yo Ma said to me, 'there's just one additional step to take: you become a human.'"
Interview by Jill Pearlman
Interview done for Community MusicWorks and shared from its blog. For information about Kinan's residency March 27-30 in Providence, please visit http://www.communitymusicworks.org
\