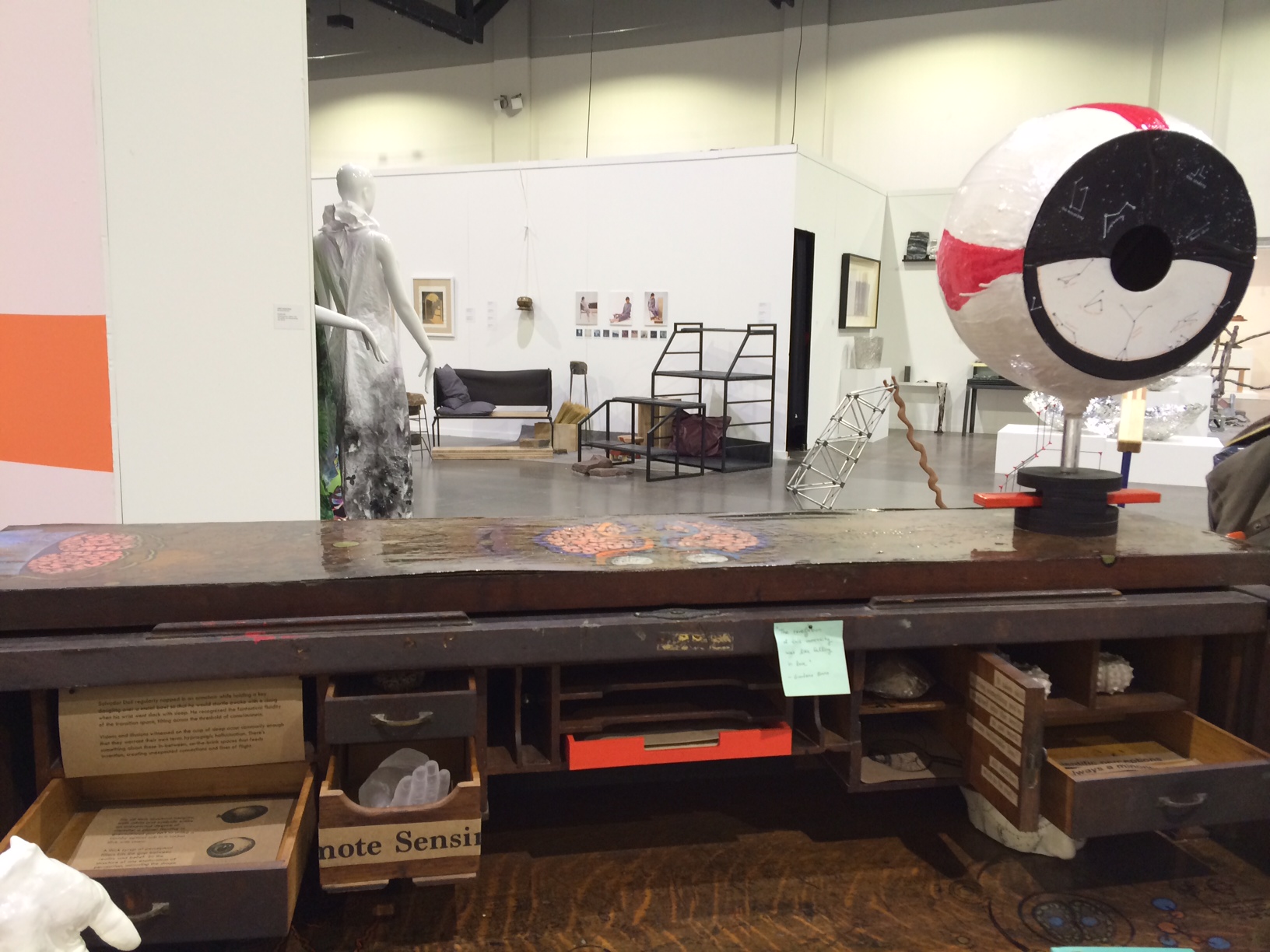 This spring has been cold and dark, and it rains all the time, and Trump is pulling out of the Paris Climate Accord. And I'm working on a dark book project.   As soon as I walked into the RISD Grad Show in Providence, I saw a reflection of my mood.
The guts of some object – a cotton mattress or futon – were unraveling on the floor.  Its soft layers were exposed.  On a nearby pedestal sat a handmade book, like a family relation – same color, same fabric.  Those fiber guts had been transformed into a book!  Artist Vanessa Nieto Romero may not have been using the actual literal material. But the equation bed + guts = book seemed apt and ultimately inspiring.
Once my self-indulgent viewer was exorcized, the massive space of the convention center blossomed like an exuberant garden. Yes, it has been raining – but the rain over at RISD has been creative. As an antidote to dark times, it was inspiring. The artists – graduating master students – represent all departments, so the range of response to "our times" came in graphic and industrial design, jewelry, print, painting. There are portraits of urgency, of dislocations in nature and population on grand, ambitious scale. Students are asking serious questions and making inquiries into existential issues, minus the usual snark.
There is a video that creates a soundscape.  On its own, this amplified recording of heavy and desperate breathing would be disturbing and exhibitionist.  I peeped behind the black curtain and watched the actress as she pressed her mouth against glass, creating mist as she squeezes, shrieks and moans out the essential act of breathing.  She fills a whole wing of the whole gallery.   With her, the artwork in the room was breathing – young artists are alive and well.